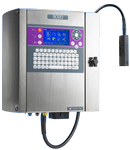 Benefits

Full-featured 9000 series printers are designed for the use in demanding production environments for both common and highly specialized applications, such as high-contrast and high-speed printing.
Consumables
Designed for printing on all types of surfaces, meeting standard to specific requirements (food surfaces resistant to the sterilization procedure, treated with ultraviolet light; egg labeling etc.); alcohol-based, water-based ink (ketone and methyl ethyl ketone free) with a wide range of colors is available.
Surfaces
Plastic, glass, metal, cardboard and food.
Markets
The food industry, beverages, perfumery and cosmetic products, personal care products, electrical equipment, electronics, cables, pipes, and shapes.
For details, please send your request to the following e-mail: This email address is being protected from spambots. You need JavaScript enabled to view it.