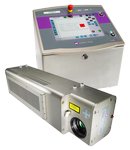 Benefits
7000 series encoders are designed for high-speed printing on large encoding areas in harsh industrial environments, especially in the need for multi-head scribing. Those printers provide perfect high-contrast codes and can perform simultaneous coding and shading.
Consumables
Dust filter for gas withdrawal devices.
Surfaces
Plastic, glass, painted metal and cardboard.
Markets
Food, beverages, perfumes and cosmetics, personal hygiene products and drugs.
For details, please send your request to the following e-mail: This email address is being protected from spambots. You need JavaScript enabled to view it.