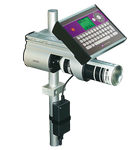 Benefits
020 and Crayon Plus printers combine the innovative simplicity and flexibility of features. Having a compact size, Crayon Plus printers are ideal for single-sided labeling of boxes, while the 4020 printers are ideal for multi-marking at up to 3-shift operation.
Consumables
Alcohol, ethyl acetate and water-based materials with a variety of colors.
Surfaces
Corrugated cardboard boxes.
For details, please send your request to the following e-mail: This email address is being protected from spambots. You need JavaScript enabled to view it.