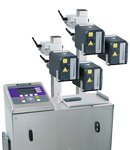 Benefits
5400 and 5800 series encoders print codes and logos. Hot melt ink Touch Dry® used in those encoders is an environmentally friendly, solvent-free ink. When applied on an item, the codes will not melt, do not fade and are 100% readable. Ink jet printing of a 5600 series high-resolution printer provides a coding solution with a competitive cost of printing and an excellent coverage rate.
Consumables
Touch Dry® ink is solid at a room temperature; alcohol, ethyl alcohol and water-based liquid ink is available with a wide range of colors.
Surfaces
Corrugated packaging, pallets and packaging film.
For details, please send your request to the following e-mail: This email address is being protected from spambots. You need JavaScript enabled to view it.